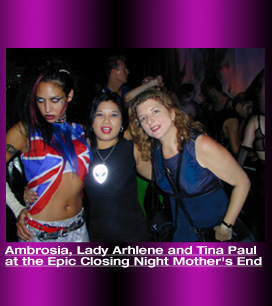 It was 7:00 am and we didn't want to leave Mother
while we danced we spotted Adam Goldstone and asked him
to take our picture so that we can remember the last nite forever.


THANKS SINCERELY TO JACKIE 60 AND MOTHER CLUB FAMILY:
Johnny Dynell the best Dj in New York City, Chi Chi Valenti the best Club Hostess,
Kitty Boots the best Designer, Richard Move the best Dancer, Paul Alexander
the best MC, Hattie Hathaway the best at everything, Deborah Harry the best
Jackie 60 legend, Rose the best Cocktail Waitress, Carly and Johnny Tingle the best
drinks, Patrick Butts the best Manager, Sammy Jo the best promoter, Abby the best Party Girl,
Rob Roth the best mulitmedia, Jean the best comedian coatcheck, Tony Brown, Mike Ford
and Aileen the best door, Steve and Ray the best security guys....

And the most beautiful Girls in New York City, the House of Domination which are Marti,
Maddawg, Kym, Jessica Rabbit, Viva, Glory Hole, Jenny, Ambrosia, Eva, Empress,
Debravation, Holly, Heather, Eliza, Connie Girl, Betty, Johanna Constantine, Trash,
Lorraine Day, Poison, Jaiku, Candy, Connie, Amanda, Janeane, Shecky and Mother Kitty Boots.
And thanks to all the great performers we saw on stage (too many to mention)
and all our Jackie friends who were there with us every week for 10 years.

If you miss Jackie 60 and Mother as much as we do then you can
always go to their brilliant regularly updated Websites. See what Chi Chi and Johnny
are up too and read fresh news to find out where the next events and parties
are going to be at Hot Clubs all over NYC.

Mother of Clubs Mother, New York's last underground performance
nightclub, closed her doors in June 2000. Her work goes on here at
mothernyc.com
Free The Lady Within - New York City Drag Life
queenmother.tv
KISSES TO OUR WRITERS FOR FIFIBEAR 6.0
Adam Goldstone Dj Melvin Moore Patricia DeLuca
THANK YOU FOR YOUR SUPPORT ON THE HOTTIE BOOTIE AND FASHION PAGES:
Maurice & Jonathan at GiantStep and Tarra Cunningham at PS1
Iris, Astrid, Caia (Stuck on Earth Dancers) and Christopher Kausch at Stuck on Earth
Scott Lifshutz and The Lady Bunny Wigstock founders
Joann and John Davis at Body & Soul
Phun Phactory Aerosol Artists and Pat DiLillo
Macworld Expo PR
Charmed Technology Internet World Penton Media
Michelle Korn (Danira - PR)
Chocolate Show
Our good friend Patricia Field


All Photographs by İTina Paul
Photo Montage and Logos by İArhlene Z. Ayalin
Photo of Amborsia, Lady Arhlene and Tina Paul by İAdam Goldstone

İfifibear.com 2000 All Rights Reserved
Copyright Notice: All photographs, drawings and video that appear in Fifi Studios
website are the property of Tina Paul and Arhlene Z. Ayalin. All photographs, drawings and
video are protected under United States and International copyright laws. The photographs,
drawings and video may not be reproduced, stored or manipulated without the written
permission of Fifi Studios İTina Paul 2000 and İArhlene Z. Ayalin 2000



---

FIFIBEAR
fifibear@fifibear.com