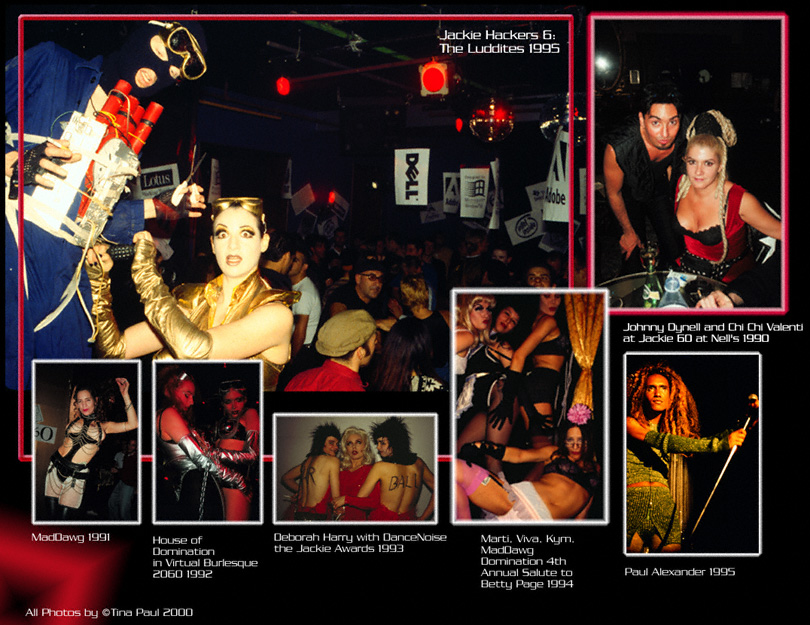 New Yorkers pride themselves on their been-there-done-that jadedness, and New York
clubgoers are even more difficult to please, so it's really saying something when a nightclub
succeeds as spectacularly as Mother in challenging, amusing, shocking, and baffling even the most
dyed-in-the-leather club hag. Mother, and its precursor and flagship party Jackie 60, managed to
do just that for a whole decade with a potent mix of performance art, high-concept weekly themes,
disco dancing, and the staff's sick and twisted sense of humor. In a city (and world, really) that is
fast losing its quirks to the mass-market, mass-media global village mainstream, Mother was a proud
multiculti clubhouse that attracted party people of all races, genders, classes, nationalities, body types,
and sexual proclivities. The uniting factor, it seems, was an appetite for the unusual.

All Photographs by İTina Paul

Photo Montage and Logos by İArhlene Z. Ayalin

Words by İAdam Goldstone

İfifibear.com 2000 All Rights Reserved

Copyright Notice: All photographs, drawings and video that appear in Fifi Studios
website are the property of Tina Paul and Arhlene Z. Ayalin. All photographs, drawings and
video are protected under United States and International copyright laws. The photographs,
drawings and video may not be reproduced, stored or manipulated without the written
permission of Fifi Studios İTina Paul 2000 and İArhlene Z. Ayalin 2000



---

FIFIBEAR
fifibear@rcn.com