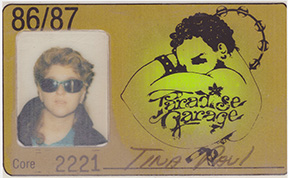 Welcome to my Paradise Garage and Larry Levan Webpages
Please Read:
These webpages were created to share my photographs and personal recollections with fans and historians of House Music, the Paradise Garage and the genius DJ Larry Levan. I have worked as an Independent Professional Photographer for most of my life and my photographs have survived because I have. At the time that these photographs were created no one had any interest in publishing them. I continued to work hard documenting Music and Culture with little acknowledgement or support for my efforts. Over time these photographs have become important and because I shared them here with you, some people chose to steal them from this website.
My Photographs are here for Viewing Purposes Only. Because some people have previously taken the photographs from this website and disrespected my ownership of the photographs I have had to physically place my copyright on each photograph. This was done as tastefully as possible so you can still enjoy the photographs. I really appreciate it when I receive emails from some of you, they are so lovely and amusing they make me smile. I also get email requests to use the photographs on other websites, publications and film productions. I do not profit from the website itself and pay to host these pages.
Many of these photographs have appeared in books, magazines and films over the years. Recently, I have encountered rampant thievery on the web where people take a photograph of mine that was published and post it on their website, blog, tumblr, etc. If you respect the Music and the Memory then please respect my work. Every day brings different challenges and I try to adapt and be fair, however, if you see a photograph that is published in a magazine or book and want to post it on your website, blog, facebook or anything, you really should credit the author of the picture. I have no problem submitting DMCA takedown notices to violators of my copyright as this thievery has happened to me too many times.
My Photographs will be here as long as they are Respected.
These Photographs Are Protected by The United States and International Copyright Laws.
If you see these Photographs anywhere else without my photo credit, Please email me the details.
Enjoy the Photos and the Memories of the Music !

Peace,

Tina Paul




Paradise Garage
Larry Levan
This Page was Created with Love and Respect on January 1, 1999
Last Update January 25, 2012
Copyright Notice: All Material, photographs, drawings, words and video that appear in Fifi Studios website
are the property of Tina Paul and Arhlene Z. Ayalin. All photographs, drawings, words and video are protected
under United States and International copyright laws throughout the Universe. No part of this website may be
privately stored, reproduced, broadcast, displayed in public, or used for any purpose in any form without
permission of Fifi Studios İTina Paul 2001 and İArhlene Z. Ayalin 2001 All Rights Reserved

---

tinapaul@fifibear.com