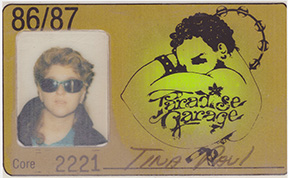 Welcome to my Paradise Garage and Larry Levan Webpages

These webpages were created to share my photographs and personal recollections with fans and historians of House Music, the Paradise Garage and the genius DJ Larry Levan. I have worked as an Independent Professional Photographer for most of my life and my photographs survived because I have. At the time these photographs were created no one had interest in publishing them. I continued my work documenting Music and Culture and over time these photographs gained importance. Sharing them here over 20 years ago caused rampant thievery and unauthorized use.
Fortunately, much wonderful collaboration happened since then and my photographs are included in many projects with proper compensation. Recent projects I worked on include documentaries, Larry s Garage, 2019 and Love is in the Legend, 2020. In addition to films, my photographs appear in books, magazines and catalogs and are currently included in two Exhibitions; Night Fever, which opened at Vitra Design Museum in 2018, and Electro, which opened at Philharmonie de Paris in 2019, with both exhibitions touring other regions. I really appreciate the many lovely emails I receive acknowledging this work. I do not profit from the website itself and pay to host these pages.
If you previously reposted or published these photographs on any website, blog, tumblr, facebook, instagram, etc. without permission or photo credit, kindly remove them or add my photo credit. With respect for the Music and the Memories, please respect my work also.
By visiting this website, you have the right to view my photographs and my story. The United States and International Copyright Laws protect these Photographs.

For licensing inquiries to use any of the photographs contact:
tinapaul@fifibear.com
Enjoy the Photos and the Memories of the Music!

Peace,

Tina Paul




Paradise Garage

Larry Levan
This Page was Created with Love and Respect on January 1, 1999
Last Update January 25, 2012
Recent Update May 3, 2022
Copyright Notice: All Material, photographs, drawings, words and video that appear in Fifi Studios website
are the property of Tina Paul and Arhlene Z. Ayalin. All photographs, drawings, words and video are protected
under United States and International copyright laws throughout the Universe. No part of this website may be
privately stored, reproduced, broadcast, displayed in public, or used for any purpose in any form without
permission of Fifi Studios c Tina Paul 2001 and c Arhlene Z. Ayalin 2001 All Rights Reserved

---

tinapaul@fifibear.com